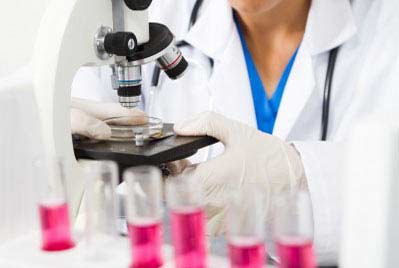 Laboratory medicine has witnessed rapid advancements in the last few decades with new breakthrough in diagnostic procedures, analytical techniques, tools and technology. All these developments have made rapid and accurate diagnosis possible today.
We have been quietly leading the diagnostic industry revolution from the front for over 50 years, by embracing advanced diagnostic methods, analytical processes and leading edge technology, much ahead of others.
Full spectrum lab tests
From routine lab tests to complex gene testing
Today, diagnostic testing has become an essential investigation tool for physicians to detect disease conditions earlier, understand the underlying clinical symptoms, make good diagnosis, work effective therapies, monitor improvements over time and provide better patient care. Be it a routine lab test like complete blood count, blood sugar etc. or a technologically advanced test for detecting certain complex medical conditions like genetic disorders, Anand Lab provides a comprehensive range of test menu and diagnostic tools to help the medical community arrive at precise diagnosis faster and provide timely patient care.
Anatomic Pathology
At Anand Lab, we cover complete range of anatomic pathology testing services including microscopic and cell examinations, cytology, tissue pathology (histology), hematopathology and immuno pathology. All tests are performed by qualified professionals and skilled lab technologists who work under strict quality assurance guidelines and time tested processes that ensures minimal errors and faster turnaround time of results.
DISEASE STATE TESTING
Special investigations that gives deep insights into specific diseases / disorders
Disease specific diagnostic tests can help doctors ascertain the existence and severity of disease states and certain types of disorders so that they can provide effective treatments with a high degree of confidence. Over the years, with higher incidence of diabetes, cardio vascular disease, cancer, thyroid disorders etc. doctors have come to incrasingly rely upon disease specific tests along with other diagnostic tools to guide their treatment options. At Anand, we have been tirelessly working over the years to deliver reliable insights into disease state testing.
OTHER DIAGNOSTIC TESTS
Special diagnostic tools for enhanced insights
Ar Anand Lab, we offer a lot more than just lab tests. Doctors increasingly rely upon additional non invasive diagnostic procedures such as Xray, ultra sound scan, CT scan, ECG, Treadmill tests etc. to narrow down their conclusion and to specifically pin point issues to additionally corraborate their finding from traditional lab tests. For instance an abdominal ultra sound scan has been a safe, non invasive and proven diagnostic imaging methodology used for detecting many health conditions including abnormalities in the abdomen, reproductive organs, liver etc. We continuously assess the state of our equipments and upgrade them constantly to keep up with technology advances, to raise the reliability and accuracy of diagnosis for our doctors and healthcare professionals who rely on the results produced by these diagnostic equipments.
Digital radiography / Xray
Digital radiography is a filmless xray image capture technique, where digital x-ray sensors are used instead of conventional photographic film.
Digital radiography delivers instant Xray image (there is no waiting time like the conventional film image) and delivers high quality digital images that can be viewed on a computer or tablet devices. Images can be zoomed, brightened and visually inspected with better accuracy than traditional xray images.
At Anand Lab we have invested in the latest digital radiography equipment from Fuji Film, who first pioneered the digital xray system in 1983.
3D-4D Ultrasound scanning
An ultrasound investigation is sought for a variety of issues ranging from gynacological issues in women to prostate gland examination in men. As ultrasound works by bouncing sound waves off of organs and other tissues, it can be effectively used to look for gallstones, liver damage and kidney dysfunction.
At Anand Labs, we have invested in the latest 3D – 4D ultrasound equipments to deliver real time moving images. 4-D ultrasound uses 3-D ultra sound images and connects them like a film sequence. The result is a real time moving 3D image of what is being scanned.
Electro cardiograph (ECG)
ECG is a fairly well established non invasive diagnostic procedure and often used as a preventive healthcare measure to assess the general health of the heart.ECG is used to measure the rate and regularity of the heart beats, the size of the heart chambers and to assess any possible damage to heart tissues.
ECG is a test that records the electrical activity of the heart, as detected by the electrodes that are placed on the chest, ankle and other points that help pick up these signals.
At Anand Lab, we use current, state of the art ECG equipments that deliver accurate results.
Echo Cardiography
An echo cardiogram uses ultrasound imaging techniques to help doctors visually see the cardio vascular system to provide additional insights into the functioning of the heart. It is often used in conjunction with an ECG report particularly when doctors notice any abnormality in the ECG reports.
Echo cardiograms provide an accurate assessment of the functioning of the heart valves, blood flow velocity, health of heart tissues and more.
Latest echo cardiography equipments produce 3D real time imaging like the latest ultrasound machines that come with 3D-4D capabilities.
Treadmill test
A treadmill test, also called as 'Cardiac stress test' is another non invasive test done to examine how the heart responds when subjected to external stress such as physical exercise. It gives insights into the heart health by comparing the circulation of the blood in the blood vessels of the heart when the person is in resting state versus when the person is subjected to physical exertion.
Treadmill tests should be done only under the supervision of a qualified nurse or a cardiac physician.
test menu
Complete list of tests, specimen requirements, report turnaround time etc.
Welcome to the Test Menu. In this section you will find useful information and answers to questions such as:
– What are the various sample cut off time?
– What are the days on which special tests are done?
– How should specimens be collected and transported to ensure the samples will not be rejected?
– When are reports available for various tests.. and so on.
The content is presented as an intuitive table allowing you to sort the test menu data in multiple ways. Please note that the information provided here could change from time to time.
To get started, simply click on the button here Launch test menu